Date:  Tuesday, June 26, 2018
Time:  12:30 pm
Place: Nueva Casa Japonesa, Humberto
1°
  2357 (near the corner of 
Humberto 1°
  and Pichincha)
Cost:   350 pesos – includes a non-alcoholic beverage and tip
RSVP to Michael Weldon to secure a place
This month we are heading to San Cristobal to enjoy a Japanese lunch. The location also features a Japanese market where you can buy almost any Japanese culinary items so be sure to bring your shopping bag!
The location is probably a bit off the grid for most newcomers but is easily accessible from the subte network. The restaurant is about 4 blocks away from Humberto 1° station on the H line and only 2 blocks away from the Pichincha station on the E line. For those more familiar with the bus routes, both the 53 and 126 stop a half block away and the 95 stops 2 blocks away.
Main courses and noodle dishes come with the option of just the dish, or as a "set". The latter is a great option as a full meal. The sets come with a bowl of miso soup, a choice of three rices (white, yakimeshi – which is more or less Japanese fried rice, or onigiri – which are the seasoned and stuffed triangular rice balls), plus a salad, pickles, and a small side dish.
Below is the spicy ramen, which comes as a set with a rich chicken broth spiked with several types of picante, and a mix of chicken and chashu pork, plus a small bowl of extra chashu on the side to either eat solo or add into the ramen. One of the best spicy ramens  in town. (290 pesos)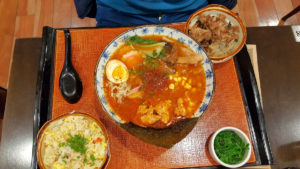 The "extra" chashu ramen below is packed with a good amount of the pork, plus a bowl of more on the side, and a deep, murky pork broth. Very, very good, and certainly up there among the better ramens around. (310 pesos)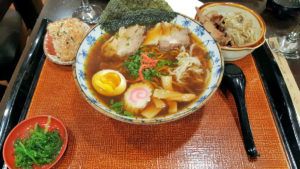 There is an extensive menu which includes several hot plates, udon dishes and special items. The full menu with pictures is included as attachments below. Make sure you check out the EBI UDON and the special SANMA TEISHOKU.  All of the set dishes include a non-alcoholic beverage as well as the items shown in the pictures.
Any appetizers, alcoholic beverage or dessert will be at your own additional cost.